THE COMPANY
Carpenter's Cabinets provides fully customized cabinetry made in the U.S.A. from start to finish.
Carpenter's Cabinets is a full service custom cabinet shop located in the South Bay area of Los Angeles that specializes in dreaming, designing, building, and installing quality custom cabinets backed by exceptional customer service. Working directly with home owners, designers and contractors throughout Los Angeles and Orange County, Carpenter's Cabinets has built a stellar reputation.  Owned and operated by Paul Carpenter (yes it was his destiny), we strive to exceed our customers' expectations by providing the best products and service. Paul personally meets every customer from the very beginning and he works with customers every step of the way. Whether you already have plans or you need a total cabinet design, we will work with you to create custom cabinets that will suit your desires, your style, and your budget.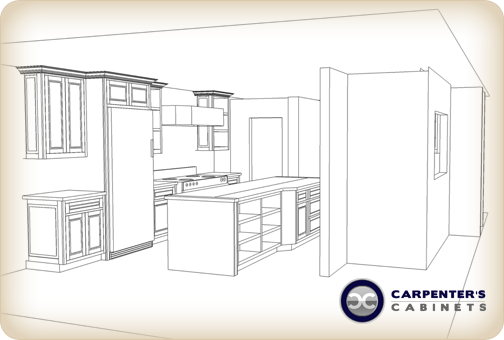 Carpenter's Cabinets provides custom cabinetry for every room and need in the home, including custom kitchen cabinets, custom bathroom cabinets, custom home office cabinets, custom laundry room cabinets, closet cabinets, garage, and even home entertainment center cabinets. We offer all styles of cabinets from frameless to face frame using the finest quality components available.
Carpenter's Cabinets uses state of the art equipment and computerized design software integrated with our CNC machining center to ensure precise milling of your cabinets. Our manufacturing facility is located in Torrance and we encourage our clients to visit us during the build phase of their project. It is an exciting time and we want you to feel connected to your project!
Carpenter's Cabinets is fully licensed and insured. This includes our California State contractor's license, license bond and liability and workers comp insurance. We have 30 years of experience taking our customers' dreams of storage, function, and beauty – and turning them into reality!
THE FOUNDER
Paul Carpenter has been designing and producing exquisite custom cabinetry for over 30 years.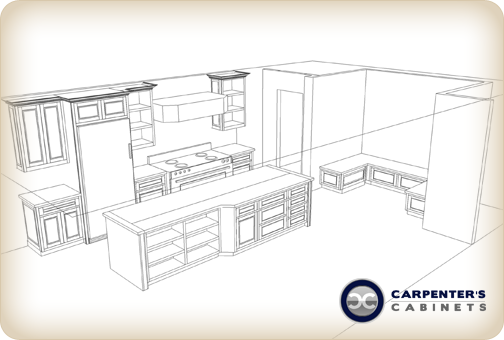 Carpenter's Cabinets was founded by Paul Carpenter. He began working in the cabinet business at the age of 13, working in a small cabinet shop in Washington state after school and on weekends. Since moving to Southern California in 1987, he's used his knowledge and expertise to build a reputation for becoming one of the best custom cabinet makers in the area. Throughout the years, Paul's work has been featured on HGTV's "Designing for the Sexes", Habitat for Humanity projects, and numerous designer events at the Pacific Design Center, where he worked directly with famous interior designer Joe Rugiero among others. His experience with a variety of projects and styles has given him an impressive and unique portfolio, which ranges from countless custom kitchen and bathroom cabinets to the 8′ tall '94 numbers surrounding the 1994 Word Cup at the Rose Bowl.
Paul's passion for detail goes into every job – small or large. Carpenter's Cabinets' state-of-the-art manufacturing facility is designed to produce exceptional quality custom built cabinets while offering personalized service to each and every customer.